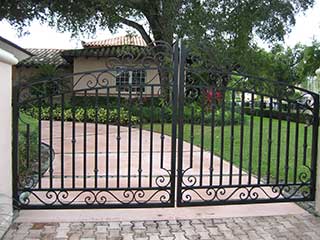 Maintenance is a necessity if you'd like to ensure your automatic gate lives up to its full potential and stays functional for a long time. It's paramount that you take good care of the mechanism in order to ensure that it suffers from fewer problems, the less the better. Our experts want to help you do that, which is why they wrote down a few useful tips for you to consider.
Check Obstructions Out of The Way
If you have a sliding driveway gate, then it's very important to make sure that the mechanism's movement isn't blocked and that its wheels won't be stopped by an unexpected obstacle. The track can accumulate all sorts of dirt and debris, and a blockage can form very quickly. That's why you need to routinely check the condition of the track, clear out any blockage or debris you discover, and make sure that rust hasn't started to develop. If your gate isn't opening or closing smoothly, the solution can sometimes be as simple as simply getting something out of the track. With a swinging gate, there's no track to check, but you can clear out the area in front and behind the doors to ensure they don't hit anything when they move.
Check the Remote Controls
Just like a garage door opener, your gate also relies on an electric motor unit to function automatically. Most likely, this unit will have a transmitter that signals it whether to open or close. If you notice that nothing happens when you use the remote control, you may want to check the batteries before rushing to conclusions. Most units will have a light indicator which tells you if the remote has power. If the light is out, you know you need to change the batteries and try it again. You can also check the access keypads to make sure they are functional by inputting your codes. If the problem persists, seek professional assistance to get it resolved.
Make Sure There Is Power
One of the first things you might want to check when your electric gate opener won't respond is the power source. If the power goes out and you don't have a backup battery set up, then you'll have to resort to using your gate manually, or waiting for the power to come back. Of course, if there is power and yet the motor unit still won't work, there may be something wrong with its circuitry and a professional technician will need to take a look.
Need Some Help?
Found yourself dealing with a problem and you don't know what to do? Leave it to our experts at Gate Repair San Diego. Our technicians have the experience and the skills to expertly handle any problem you may encounter. Get in touch with us to have our professionals fix whatever's wrong with your driveway gate, its motor, or any of its added features, like the intercom system.