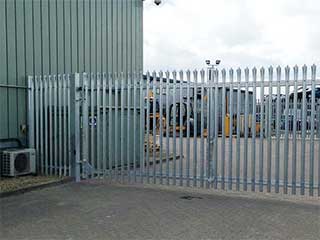 Gated communities and business have a lot of assets to protect so it's important that the gate that controls who enters and leaves is solid enough to maintain the property's security, and also to keep unwanted intruders from gaining access easily. Our experts know what's needed to fix anything from a malfunctioning intercom system to bent tracks and broken motor gears. If you're interested in getting a new gate installed, our team can advise you on the best materials and features for your specific needs.
Quality Replacement Parts
Any mechanism with a lot of moving metal parts will see some wear and tear as time goes on, and an automatic gate is no different in that sense. When parts like hinges and wheels wear out, you'll not only want them replaced as soon as possible, you'll also want to make sure good quality parts are installed in their place, should replacement be necessary. Even your electric gate opener can need to have some things replaced, like the gears or the circuit board. Our company only uses reliable and durable replacement parts made by the industry's leading brands, so it will be a long time before you need that particular part again when you have us handle the problem.
You Definitely Need an Intercom System
An automated gate system is definitely incomplete without a phone entry system that allows you to identify who's waiting on the other side. When it comes to securing a community or a place of business, this is incredibly vital. Of course, it's important that this system isn't just fancy with lots of features, but that it actually works and allows you to remote control the system and "buzz" people in, as it were. After all, who wants to walk to the gate every time someone arrives or needs to leave? Whether it's a circuitry issue, some detached wires or damage to the exterior casing, our technicians can repair any type of problem your gate intercom may suffer from. In addition to that, our experts can also consult you on various new models that are available today, and that may be worth upgrading to.
Custom Made Gates
You may have a driveway that is particularly wide, or you may want a special ornate design that reflects your business. Our skilled technicians will work closely with you so that you get the exact gate you wanted for your business. A custom made system is the perfect opportunity to improve a property's curb appeal and to show your customers you're a serious and prestigious commercial establishment.
Ready To Take Your Call
If you need help of any kind, call Gate Repair San Diego today and our professional technicians will fix whatever you need them to fix. Your automatic gate will be fully functional again before you know it.