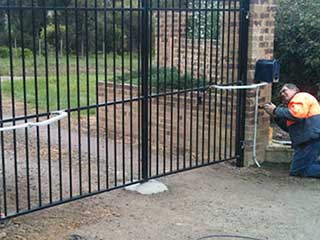 Protecting your property and improving its curb appeal aren't mutually exclusive aspirations. You can do both simultaneously by simply installing a new driveway gate. This type of system can contribute not only to residential properties, but to commercial establishments as well, like restaurants and office spaces. It will give your business a look of luxury and class, while also providing additional security.
Different Materials Different Benefits
Apart from visual appeal, which is a major determining factor when choosing a new gate, there are other things that you'll need to consider. The different materials available today each has different benefits and potential downsides. Wood can be very beautiful, but requires a lot of maintenance, as does wrought iron, which can be fashioned into ornate designs, but is liable to rust when it isn't adequately protected. Steel is a great choice that can add extra privacy due to that fact that it can come in the shape of a complete panel and not only bars, but it's also heavier, and will require a more powerful opener to move.
Speaking of Openers
Another thing to consider when buying a new gate system is the electric device that automates the system's operation. There are all sorts of models available today, with major brands like LiftMaster, Eagle, and Elite taking the spotlight for their reliable products. Things like wireless control and smartphone compatibility can add a great deal of convenience to your daily routine, and they're definitely worth your consideration, if nothing else.
Different Types for Different Needs
If you have lots of free space at the start of your driveway, then a swing gate is definitely an option. This type of system literally swings out like a normal door, and therefore it needs a certain amount of room to move. If available space is a bit of an issue, there's the sliding gate option, which moves laterally. Both of these types use very different openers, as the way they work is different.
Let Our Experts at Gate Repair San Diego Help
No need for you to make this decision alone. Our experts will be happy to consult and advise you on everything from which type of intercom system to get to what unique designs your new custom gate should have. Get in touch with us today to learn more.
Our team can also take care of:

DKS Gate Opener

Parking Garage Gates

Aiphone Gate Intercoms

Security Gate Repair