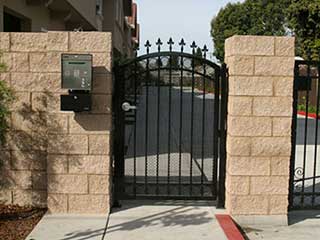 A crucial part of your driveway gate is the intercom system. It's this device that allows you to control who enters your property and to verify their identity remotely. An intercom is a great way to keep out unwanted intruders, while enabling visitors to access your property quickly and easily. A reliable, secure phone entry system is essential for keeping your property safe and secure, which is why our company offers comprehensive repair and installation services for these devices. If your existing system is developing faults, or is in need of an upgrade, our technicians are always ready to help.
Repairing Faulty Intercom Systems
Like any electrical system, there are plenty of different issues that can crop up. Circuit boards may malfunction, wiring may break and the intercom's casing may suffer physical damage. These can make it difficult to clearly identify who's at your gate, or to let them in, and in both cases the problem needs to be fixed quickly. That's where our technicians come in - our team carries a full range of replacement parts to every job, allowing them to swap out most damaged and broken parts on the spot.
Installing a New Gate Intercom
If your existing phone entry system has been severely damaged, or has become obsolete, you might need to replace it with a new one. There are all sorts of options available today, from wired and wireless, and ones that can connect directly to your smartphone. Our experts provide professional installation services for all makes and models of intercom systems, and will ensure that you find the model that can offer you the security that your home needs. Whether you need video or audio communication, or even if you're looking for a modern WiFi-enabled intercom system, our team will be able to help you out.
Don't Wait – Contact Us Today
No matter what you need, our technicians can help. Any problem involving your gate intercom will be quickly and effectively resolved, and our wide range of new models is bound to hold a new phone entry system that will suit your needs and preference. Get in touch with Gate Repair San Diego today to get all the help you need.