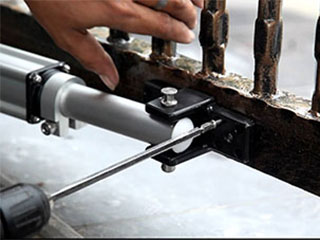 An automatic gate that doesn't work reliably is a big problem. You can't get in and out of your own property, nor can you let in visitors when they arrive. This is frustrating enough, but the lack of security added on top is even more of a problem. Any home or business owner that encounters problems with their automatic gate should get in contact with us as quickly as possible
Specific Gate Problems
Not all mechanisms are made in the same way, and each type of system will develop faults specific to its material and operation style. Our technicians are able to handle any of these problems quickly, welding damaged swing gate hinges or replacing broken sliding gate wheels without any issues. Physical damage is often the one that seems the hardest to repair, but if you leave it to our experts you'll be able to see how our company's become the leading service provider around.
Different Gate Types
The material that your driveway gate is made from also plays a large part in the types of issues it can experience. Wooden gates can suffer from rot and warping, especially if they're not regularly cleaned and sealed against moisture via painting. On the other hand, aluminum frames or sheets can be bent and dented more easily. The varied requirements of different types of materials make it essential to use highly professional and experienced technicians for any and all repair needs you have.
Intercom System Problems
Your property's phone entry system is also a crucial component and must work reliably on a daily basis. Without it, how will you let visitors in? Or how will you know who's waiting outside your gate in the first place? Count on us to quickly reconnect detached wires and solve any circuitry or signal issues in the shortest time possible.
Let Us Help
Whatever the issue you're having, our experts here at Gate Repair San Diego are ready to fix it. Don't hesitate to get in touch with us to find out more about the different services our team can provide.
We also take care of:

Linear Gate Intercoms

BSL Gate Opener

Solid Sliding Gates

Sliding Gate Wheels