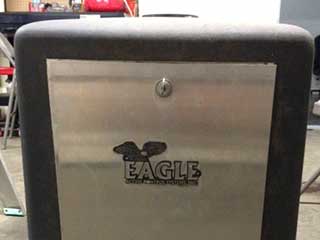 The opener, also known as an "operator," is the device that converts electrical energy into motion in order to push your driveway gate open or shut. Many brand name models are very sturdy and reliable, but if some part of them breaks down you could be in a lot of trouble. Fortunately, opener repair is one of our team's specialties.
Fixing Malfunctioning Units
If your automatic gate isn't opening on command, or is moving when it shouldn't be, then there's most likely a problem with the electric opener. Common issues include wiring failures, broken motor components, and jamming, as well as software problems if you have a "smart" device. In most cases, the problem is solvable with some electrical maintenance or replacement parts, or with reprogramming in the case of software issues.
The Unit Your Gate Needs
Sometimes you need a new gate opener altogether, either because your old one is broken or worn down beyond repair, or because you're having a brand new system put in and it requires a more powerful unit. However, not every electric opener will work for your system. Sliding and swinging gates require completely different types of operator units, and not all brands and models are strong enough to move all types of frames. Our team works with the products of numerous trusted manufacturers, and will help you pick out and install exactly the opener you need.
Sensor Repair and Replacement
Most electric openers have a pair of optic sensors to detect obstructions and prevent the gate from closing on something or someone. Some also have motion sensors to detect approaching vehicles. If your sensors aren't aligned correctly or fail to work properly for some other reason, or if you don't have these photo eyes installed, trouble is likely to follow. Fortunately, our technicians are available to diagnose and repair sensor problems, as well as install new units and other safety systems to your specifications.
No Reason To Wait
A defective driveway gate is a massive impediment to your home security and ease of life. Don't live with it longer than you have to; call Gate Repair San Diego, and book an appointment with our experts today.
Looking for more? We also offer:

Program Doorking Intercom

Driveway Gate Adjustment

Gate Motor Replacement

Gate Exit Sensor Installation