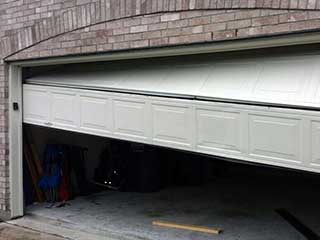 While automatic gate repair is one of our main services, it isn't our only specialty. Trying to get your garage door to open when you're in a hurry can be very inconvenient, especially when it seems insistent on not complying. This type of mechanical system can malfunction due to a variety of issues, ranging from motor problems to electrical glitches and even simply a broken spring. Whatever the case may be, you'll probably need a professional technician to come inspect things and provide an effective (and affordable) solution. That's when you need to contact our company.
Urgency For an Emergency
Oftentimes, when a garage door breaks down it happens in the most inconvenient moment; not that there's ever a "convenient" movement to have to deal with these sort of problems. Many malfunctions can prevent the door from opening or closing, which will leave you in quite a pickle, to say the least. These sort of problems will demand a fast response, in order to have the appropriate solution applied quickly, thus minimizing the disruption to your daily routine. Rest assured that when these sort of emergencies occur, our technicians will respond with the appropriate urgency. Our company maintains a same day service policy in order to be able to help garage door owners as quickly as possible, whenever they call.
Opener Won't Start
If you discover that your motor unit doesn't run, the issue could be a mechanical or an electrical one. The first thing you should do is run some diagnostic troubleshooting, and check to see if the problem is just with the remote control, or with the main control panel as well. If the opener seems to be running but makes weird noises and won't move the door, you could be dealing with broken gears, or a scenario where part of the drive system broke or detached from the door. Of course, this sort of general problem can also mean wiring issues, and may even require a replacement of the circuit board. Naturally, figuring out what's wrong – while potentially complicated – is the easy part. The hard part is fixing the problem.
That's Where Our Technicians Come In
Whether your garage door spring broke and you're in need of experts to repair it, or you're dealing with any other sort of issue, our company can help. Our repair specialists have a vast wealth of knowledge and experience, and can handle any problem you may encounter. Don't hesitate to get in touch with our team here at Gate Repair San Diego whenever you discover something wrong with your automatic garage door.